VPN is a security network that allows you to freely roam the internet without the fear of digital theft. With a VPN, you can easily access sites through an encrypted server that hides your IP address and encrypts your online data from spying eyes. Essentially, VPN is used for getting online privacy such as hiding your browsing history, along with other communication made on the internet.
Vpn is also widely used for visiting geo-restricted sites that are not available in your region. Through a VPN, you can easily access these sites and binge-watch your favorite shows without any hassle. In this article, we have shared the Best Free VPNs for both iPhone and Android.
List of 13 Best Free VPNs for Android and iPhone
1. Express VPN
Express Vpn is one of the most trusted VPNs that is known for providing high-quality privacy settings. Whether you are using public wifi or are surfing through restricted websites, ExpressVpn will keep your identity hidden. With more than 160 VPN servers available in 94 countries, you will never face problems with finding a server.
Moreover, it does not keep tabs on your history and is compatible with 5 devices at the same time. Besides, it offers a seven-day free trial plan along with a 30-day money-back guarantee for both iOS and Android devices so you to satisfy yourself with the app's features.
2.Nord VPN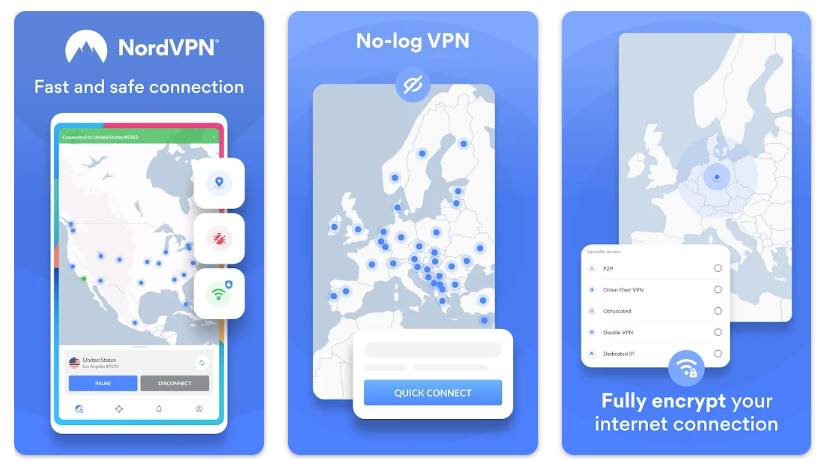 In the list of the best Vpn, Nord Vpn stands in the first row. With its simplistic quick login and wide range of servers, it is simply the best VPN to own. Nord Vpn has a no-log policy which means no one can see the sites you have been visiting. It also has a list of restricted sites that can be unlocked through this VPN.
While Nord Vpn is not completely free, it offers a 7-day free trial for you to experience the app. It is compatible with both Android and iPhone and provides a money-back scheme if purchased with a subscription.
3.CyberGhost VPN
CyberGhost will allow you to enjoy your browsing without any worries. With more than 26 million users it is very strict with its no-trace policy. Once you enable CyberGhost, automatic data protection will get activated. Additionally, CyberGhost offers an unbelievable number of servers. It has more than 7000 servers from more than 90 countries, giving you a great variety to choose from.
4. Proton VPN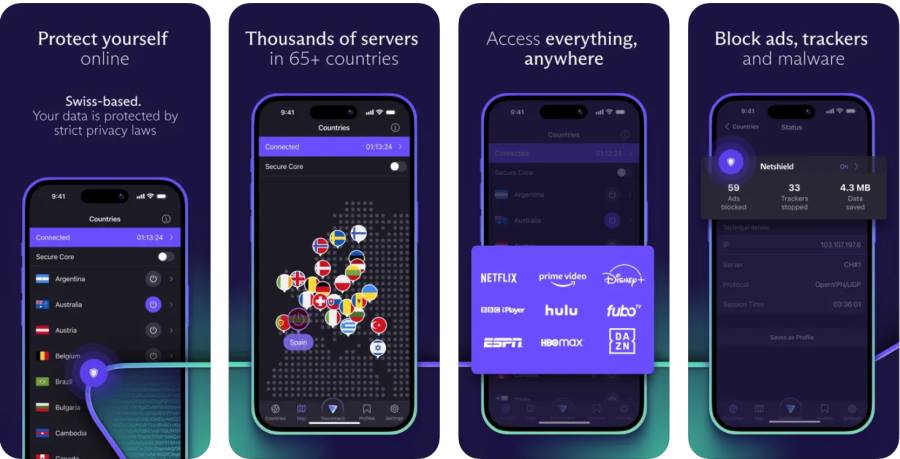 Proton Vpn is an ideal choice for tv-series enthusiasts who are looking to binge-watch restricted shows. Since Proton Vpn offers unlimited bandwidth, there is no end to its connectivity. Moreover, there are a few drawbacks with this package as it works on only one device at a time.
In terms of servers, there are three locations available to use, and are compatible with Android, iOS, and even Windows. While it offers a free if you want to get an upgraded experience, shift to its premium version which offers more services and high-speed connection.
5. Surfshark VPN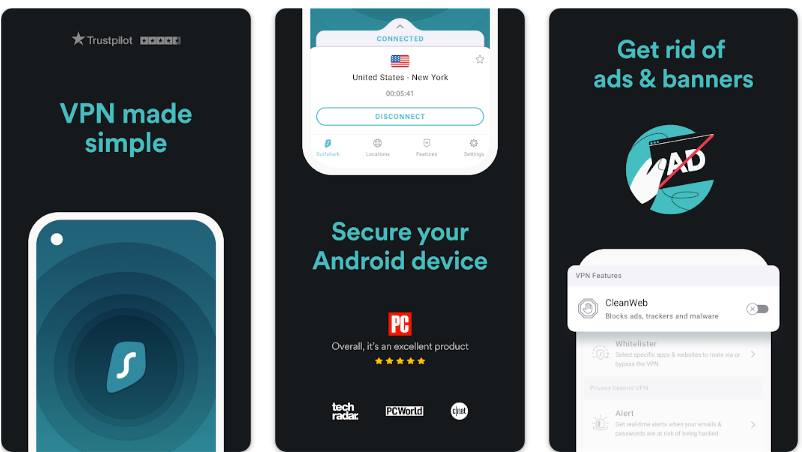 Ever heard of an app that is not only free but provides premium quality services to its users? Let me tell you about Surfshark VPN which offers more than 3200 servers from more than 100 countries.
Moreover, it also blocks ads, trackers, and harmful sites that could cause damage to your device. It offers moderate-speed connectivity and has a strict no-log policy which prevents anyone from spying on your data. Additionally, you can use its 7-day free trial to make the proper subscription in the future.
6.TunnelBear VPN
TunnelBear is a strong VPN service with a user-friendly interface. This allows users to activate the VPN easily without any hassle. With its powerful AES-256 encryption, all your online data and browsing will be protected and saved from unauthorized access.
Moreover, its animated GhostBear feature is to pass through vpn blockings. It provides servers from more than 41 countries with brilliant speed. You will also see a VigilantBear option which acts as a kill switch to end your VPN activity. You can use TunnelBear on more than 5 devices simultaneously. It also offers a free 500MB of data each month.
7. Windscribe VPN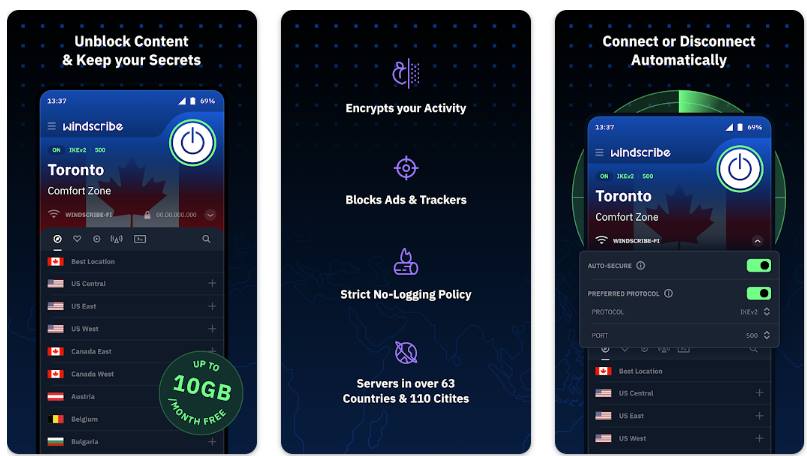 Windscribe is a great VPN application with a wide range of servers. It has servers in 110 cities and almost 63 countries, allowing users a great variety of restricted sites to unlock. Like other VPN services, it also has a no-log option in which no data is saved. It also has a clean web with its efficient tracker and ad blockers, providing a seamless experience to its users.
Windscribe also offers unlimited bandwidth to browse your favorite sites endlessly without any limit. It also has a user-friendly interface with 24/7 customer support to answer your queries.
8.Turbo VPN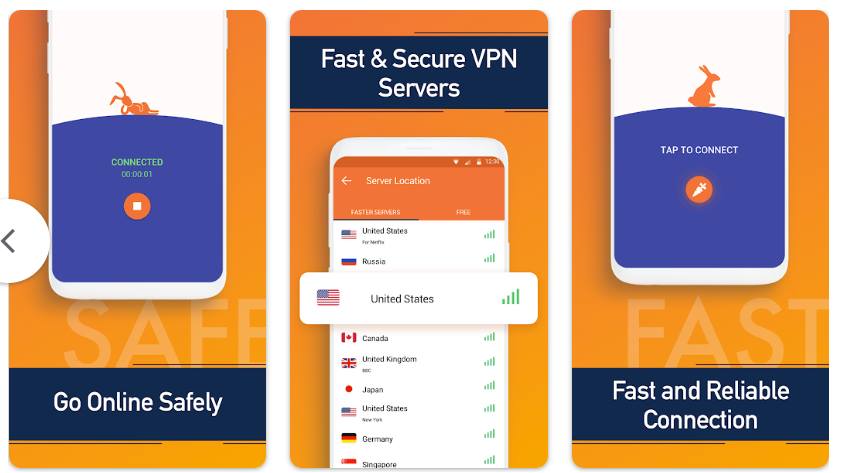 Turbo is another free Vpn that provides you with unlimited bandwidth to watch your favorite shows and visit sites. It has a user-friendly setup that allows users to activate the VPN with a single tap. In terms of security, Turbo Vpn uses AES-256 encryption to secure the data which protects your data from getting stolen.
It has plenty of servers from various locations along with a large variety of geo-restricted sites to access. Don't worry, your browsing history will not be saved in Turbo Vpn. Moreover, there will be no ads to interrupt your show. It plays shows and series at a super speed and provides smooth downloads on both iOS and Android devices.
9. Betternet VPN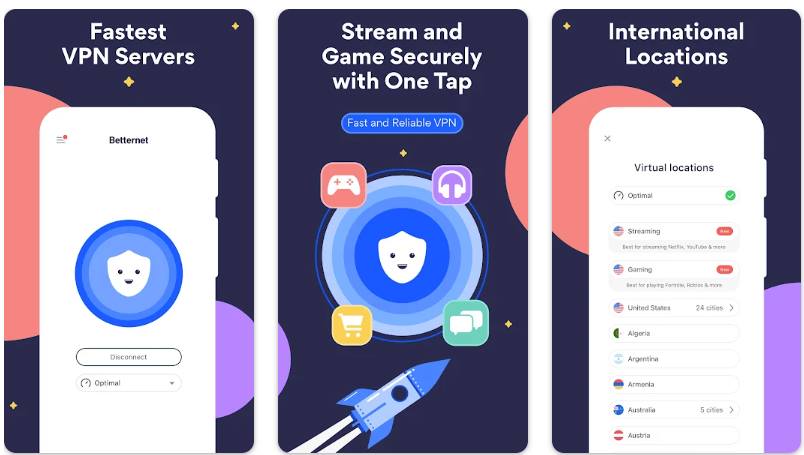 Betternet Vpn is the best free VPN with unlimited bandwidth. It has a user-friendly interface that is easy to connect, relieving users of technical errors. Moreover, Betternet Vpn uses AES-256 encryption which encrypts your data and secures it from unauthorized persons.
Additionally, it has a no-log policy which means it does keep your data stored. It also supports a clean web by blocking ads and malware. The app is compatible with both Ios and Android devices.
10. Private Internet Access VPN
Private Internet Access is another reliable VPN option that offers features like online transparency with its in-built tools like WireGuard. You can also change your IP address with a single tap and change location. Since the Vpn works with secure wifi access, your browsing will have a secure connection. Another great feature of PIA VPN is that it works on 10 devices at the same time.
11. IPVanish VPN
IPVanish is another great VPN service that will give you a premium browsing experience. Once you activate this VPN, it will automatically hide your IP address to protect your data from theft. It has more than 1600 servers located in 75 countries. This allows users to choose their own server required to visit their desired sites.
IPVanish has well-protected encryption since it uses AES-256 encryption which protects your information when accessing sensitive sites and also prevents unauthorized persons from viewing your history.
12. Vypr VPN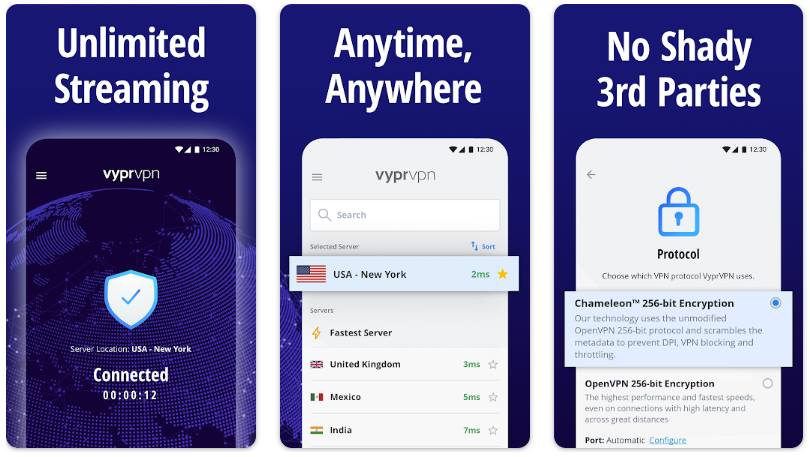 Vypr Vpn is another great Vpn service that offers top-class security along with other additional features. With its open encryption with a kill switch feature, you can easily end your browsing if you suspect any abnormal activities. Moreover, it has a no-log feature that prevents anyone from looking at your browsing history, even if the app doesn't save your history.
In addition, it provides more than 70 servers from countries that you can easily activate. While Vypr vpn is not completely free you can avail of its 7-day trial or money-back guarantee which is available for all devices.
13. Hotspot Shield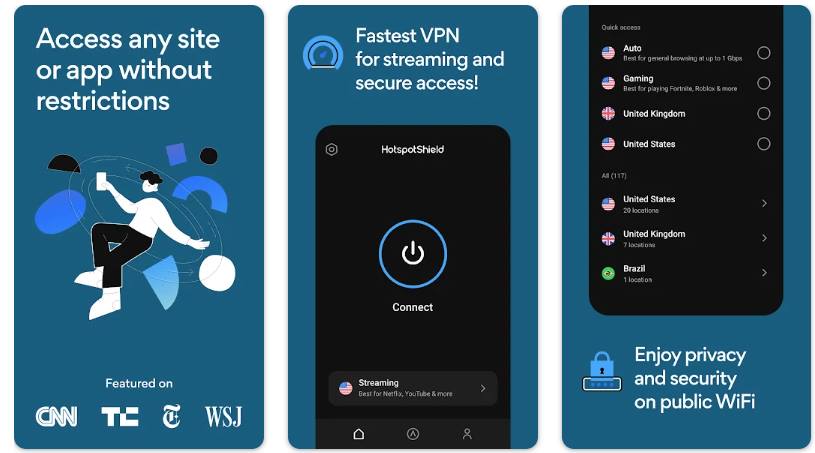 Want a VPN that not only has high performance in security but also provides high-speed connectivity? Hotspot Shield is another amazing VPN service that uses catapult hydra protocol for optimizing the speed and performance of this VPN, resulting in smooth browsing, streaming, and downloading.
Moreover, it has a wide range of servers working in more than 80 countries. It also has in-built protection shields that prevent your device from malware and threats. Hotspot Shield has a user-friendly interface and is compatible with both Ios and Android devices.
Conclusion
Vpn has become a necessity in this digital world providing heaps of benefits for both individuals and businesses. Safety and security is the main concern for anyone surfing the internet. Anyone can steal your information and address if not taken proper measures to avoid it. Vpn does it all for you, it encrypts your IP address to hide your information and also provides a large variety of geo-restricted sites to access. Here are 13 VPN options for you to try on your iOS and Android devices
Frequently Asked Questions
Can I use VPN on two devices at the same time?
Yes, most VPNs allow you to use it on at least two devices simultaneously. You can check your Vpns description to see how many devices it supports at the same time.
Can I use VPN to access restricted Netflix shows in my region?
Yes, with VPN you can access all the geo-restricted sites including shows on Netflix which are not available in your region.