Are you searching for the best manga sites to read manga online for free? If so, then you're at the right place.
No doubt, Manga, a Japanese comic medium, has captured the hearts of millions around the globe. From kids to adults, the comic has attracted the eyes of all ages with its appealing artwork and engrossing storylines.
While bookstores and libraries have always been go-to spots for manga lovers, the internet has opened up a world of limitless possibilities. Now numerous free manga sites now offer an extensive collection of titles.
However, considering the huge availability of free Manga sites, it can be a bit tricky to simply go for the best one. But don't worry, as we have decided to share the list of best manga sites to read manga online for free. We also have covered torrents sites to download ebooks where you can find manga collections.
So without further ado, let's get started.
13 Best Manga Sites to Read Manga Online for Free
The list for free Manga sites is given below:
1. MangaPark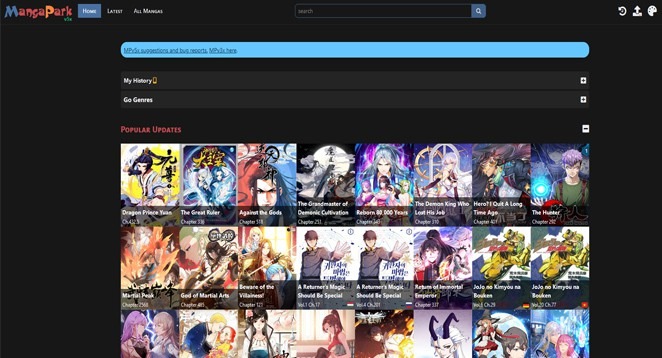 The 'Manga' in the name is just to mention, otherwise, the website allows you to read all sorts of comics rather than only the Manga genre. From well-known titles like Fairy Tail to ones that aren't much popular, like Monster Musume no Iru Nichijou, the site has something for everyone.
As an added bonus, you can find your favorite hit by genre thanks to its search filters. You can also read your desired comic without getting registered. The best part is that all these perks are free. Isn't it impressive?
2. Mangadex.tv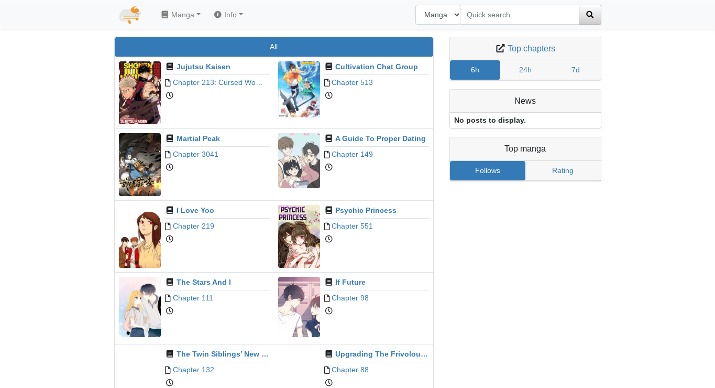 Mangadex.tv is another site that offers plenty of captivating content available at your fingertips. It's a free database of anime, manhwa, and comics like Manga. The user-friendly interface and search engine make it easier to find what you're searching for.
What's even more impressive is the integration of social media platforms such as WhatsApp, Facebook, and Instagram. It means that you can easily share your favorite comics with your loved ones. Though ads can be a bit annoying, of course, what can you expect from a free site?
3. Bato.to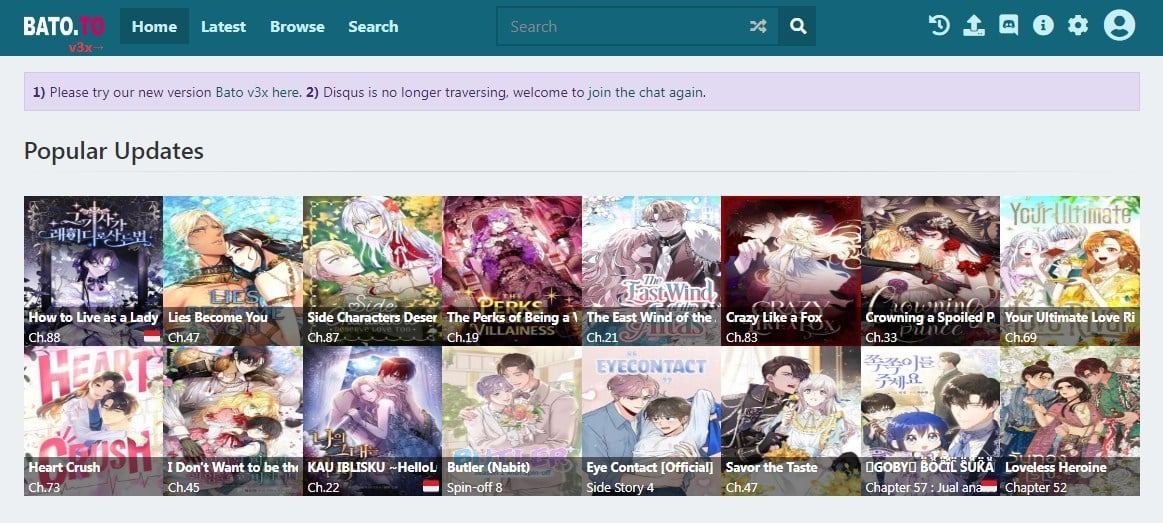 The new version of Bato.to is an excellent way to read the latest Manga releases. All you have to do is scroll the homepage, and new interesting comics will appear in front of you. And these perks are free of cost.
Moreover, it provides you the opportunity to download or read entire chapters without the need for internet connectivity. You can also put filters in the search engine to narrow down your results.
4. MangaHere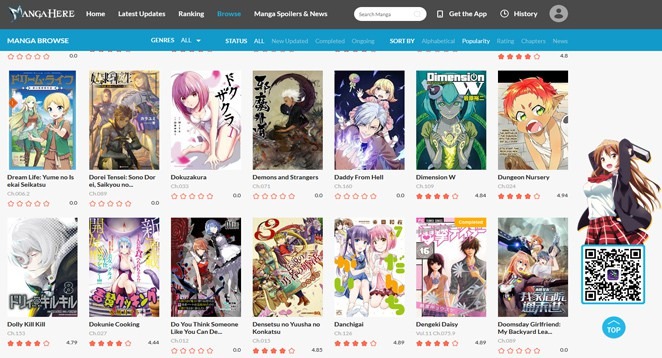 Besides the obvious function (allows you to read comics), the MangaHere has a number of innovative features that makes it stand out. For instance, you can bookmark pages, so you won't have to search for pages.
Since it's adding new titles every day with English translations, the app is worth trying out. The only drawback of this app is the limited availability of popular comics. Still, it's free, and that's a mutual tradeoff. Right?
5. MangaStream
MangaStream is yet another best website on our list to read Manga comics for free. In terms of upsides, the fast loading speed, search filters, and easy-to-use search engine are sure to impress you.
Moreover, the site has numerous genres to cater to the taste of individuals. Some popular ones include Demons, Drama, Harem, Historica, and Martial Arts. The best part is that the app offers all these perks as freebies and ads aren't so frequent as well.
6. Crunchyroll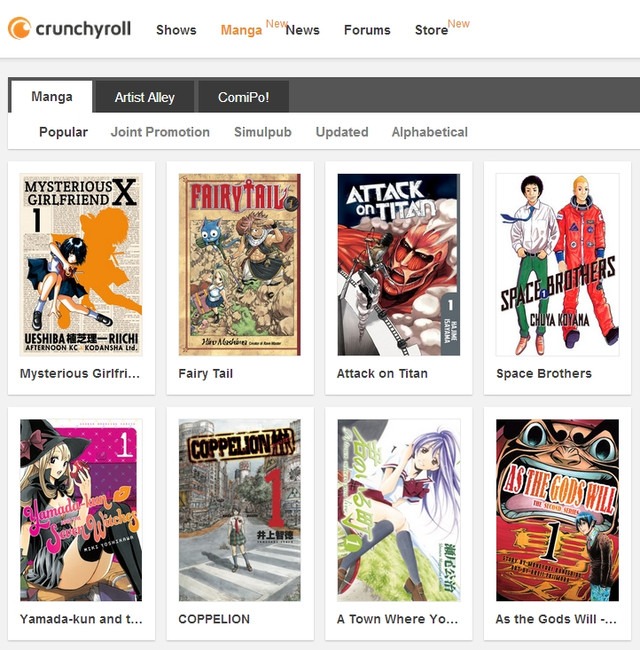 Another great website to read Manga comics for free is Crunchyroll. The platform has a dedicated section for Manga reads, and that's an incredible thing for Japanese anime lovers.
It also offers the convenience of Android and iOS applications, so there's no need to search for it on Google every time you need to read comics. Even better, the site incorporates a user-friendly interface, making it accessible to even children.
While most of the content is available for free, a monthly subscription is required to access premium and full anime series.
7. Manga.Club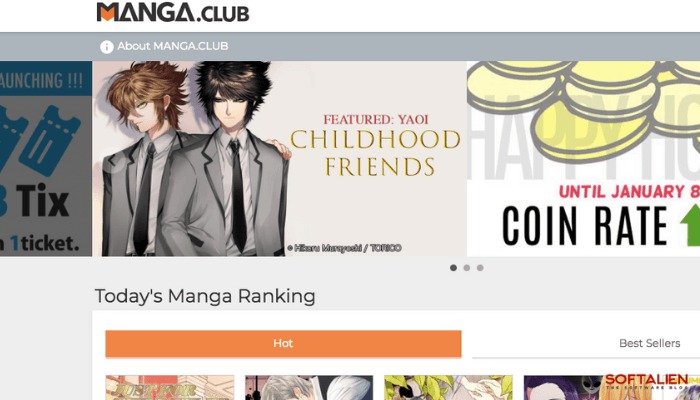 MangaClub is a prominent manga website that offers a wide selection of manga comics across various genres. It boasts an extensive collection that is conveniently categorized, making it simple for users to explore and discover new manga to read.
The website's user interface prioritizes user-friendliness and ease of navigation. As soon as you arrive on the homepage, you'll see a visually appealing section that showcases the latest Manga releases.
While MangaClub excels in many areas, such as its appealing design and user-friendly interface, its search feature falls short of expectations in terms of functionality.
8. Night Comic
Night Comic provides users with a well-structured platform that comprises the most popular manga series. The site offers advanced search options, subscription alerts, and the ability to create or discover manga collections.
In terms of design, Comic Night presents a clean front page that showcases the best manga series. Even better, the site's high-quality scans ensure a seamless reading experience.
9. NiAdd
Like most of the sites mentioned above, NiAdd is a free platform to read comics website. However, a major benefit of this site over others is its fast operation, all thanks to its small homepage.
The best part is that the site is constantly updated with new reads. Though it offers entire comics as freebies, there are no ads, and that's likely amazing. Plus, it features a surprise button that helps you to choose your next read (in case you're confused).
10. Viz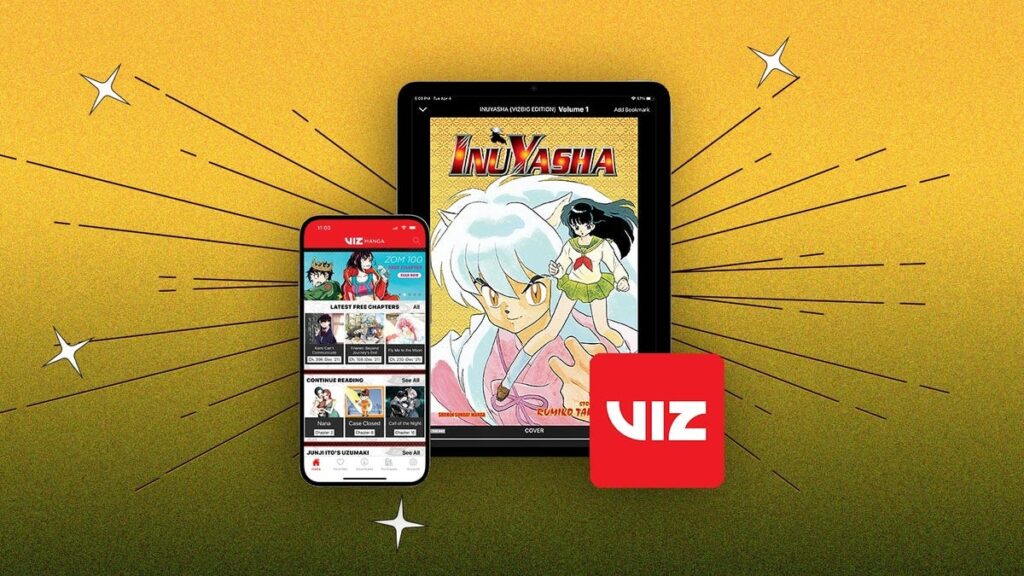 Being a popular anime streaming site, Viz also offers a wide array of popular comic reads including Manga. It is an American Anime site that has been serving for 34 years. This indicates that you don't have to worry about being hacked; the site is legit.
Alongside several comic genres, the platform also has English dub reads or reads with subtitles. The most impressive part is that it offers all services for free and that's quite cool. Right?
11. Ebookrenta

The site Ebookrenta is dedicated to a range of popular comics, especially Manga reads. It offers a great Manga database that has gained millions of people's appreciation and love.
Moreover, the interface is also user-friendly, so you won't face any hassle while searching for your favorite read. On top of that the site keeps itself updated with the latest yet quality releases.
12. NineManga
Next on our lineup is NineManga, an excellent platform offering a wide selection of Manga comics free of charge. It caters to both enthusiasts of classic Manga titles and those seeking the latest releases.
In addition, the user interface strikes a perfect balance between simplicity and functionality. Even better, the website supports seven languages, allowing users to enjoy the content in their preferred language. All in all, NineManga stands out as a top-notch manga website deserving of high praise.
13. INKR
INKR, a beloved online Manga platform, has won the hearts of Manga enthusiasts for its winning combination of perks. For instance, it offers free access to an extensive collection of Manga comics, satisfying the cravings of avid readers without burdening their wallets.
Moreover, INKR goes the extra mile by providing a user-friendly Android application, allowing users to dive into their favorite stories on the go. For a seamless experience, the platform also offers a well-crafted app.
Conclusion
So here you've it, best manga sites to read manga online for free. Whether you're a manga enthusiast or just looking out for comics for your taste, these websites have something for everyone.
The article discusses free Manga sites to read Manga comics for free. All the above-outlined websites are completely free and legit, so you don't have to worry about expensive subscriptions and safety concerns.
Though most websites may serve ads, we have also outlined the ones which don't charge even a single penny and are ads-free as well. So don't wait to read your favorite comics, just ping a search and let the Manga story be discovered.
Frequently Asked Questions – (FAQs)
What is the safest free manga website?
The websites we have mentioned above are all safe and legit. There's no risk of being hacked or redirected if you visit these websites to read Manga comics.
Is there a free manga app?
Yes, there are many free apps to read manga for free. In fact, the websites we have outlined above also integrate their apps. Out of them, the most reliable app is Crunchyroll that's functional on both Android and IOS.
Where to download free manga?
You may need to download Manga in case of unstable or no internet connectivity. The sites like Bato.to, Manga Fox, Manga Park, Manga Dex, etc allow you to do just that.
Is Viz a safe Manga site?
Yes, the American Manga site Viz is legit and has been serving for 34 years. The site also offers anime shows.