Instagram has introduced a new amazing feature called 'Instagram Reels' but to download Instagram reels audio as MP3 is not officially supported. It is a popular platform similar to TikTok where you can create short appealing videos for your viewers worldwide. From sharing yoga practices to dance routines a catchy song can go viral in seconds.
Oftentimes when we are scrolling on Instagram we come across such reels whose audio is so captivating, we think about saving it for the future. There are different tricks and methods through which you can save as many songs and audio as you want in mp3 format easily.
In this guide, we will share a step by step method for you to extract any Instagram audio and convert it without any hassle.
6 Ways to Download Instagram Reels Audio As MP3
1. Use a third party application to download Instagram Reels Audio
While Instagram does not allow direct mp3 conversion of reels, it is still possible to get it by downloading third party apps that download Instagram reels directly. These sites include reel save, reels downloader, etc.
Follow these steps to download the Instagram reel video to convert it into audio.
Open Instagram and choose the reel you were planning to download.
Open it in full screen to see complete options.
Press on the arrow icon and copy the link option to download the link
Open the reel downloader tool you have selected and paste the link.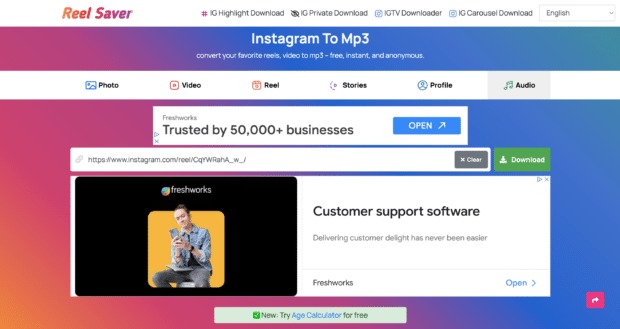 Press download and wait for it to extract the audio.
Before the download is started, it will show the option to preview the audio.
Once downloaded, the audio will be saved to your device which can be used on any video
For desktop, instead of copying the link from the share button, directly select it from the search box and paste it into the site.
2. Video to MP3 Converter Sites
The second method to download Instagram reel audio is by saving the video on your device and passing it through a video converter app to convert it into mp3 format. Follow these steps to convert the video.
Open Instagram and select the reel of your choice and download it.
To download, open the reel in full screen and press the arrow button to send it to your story.
On the screen, choose the three buttons to save the video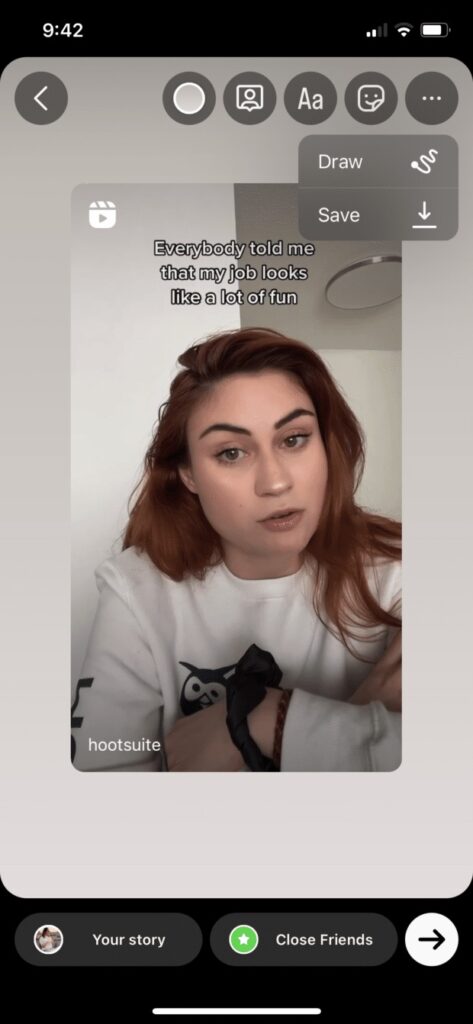 Download any video to mp3 converter of your choice and install it
After setting it up, add your video to the app and select the settings you want your video converted into and press convert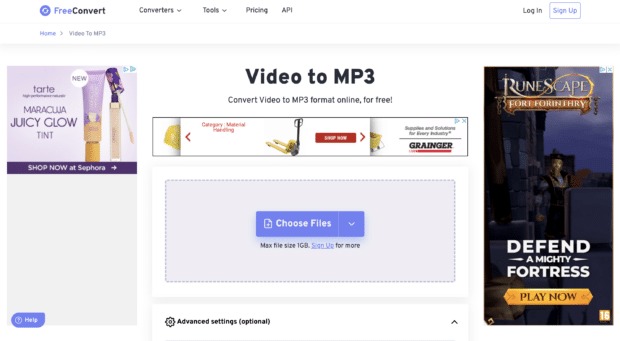 Once the conversion is completed, it will be saved to your device
3. Change the Video Extension
You can also get Instagram Reel audio by changing the extension of the downloaded video file. This will automatically change the video extension into an audio format. I will share methods for both Android and desktop to easily change the extension.
Step by Step Guide for Android Devices:
Open Instagram and choose the reel and tap on add it to your story.
From there press on the three dots to see further options. You will find two options- one is draw and the other is save. Press on the save option and download the video in your gallery.
Now, go to your phone's icons and find the Files app by Google on your device.
Find your recently downloaded video and select it to access further options.
Upon selection, you will get a drop-down, choose More in the settings.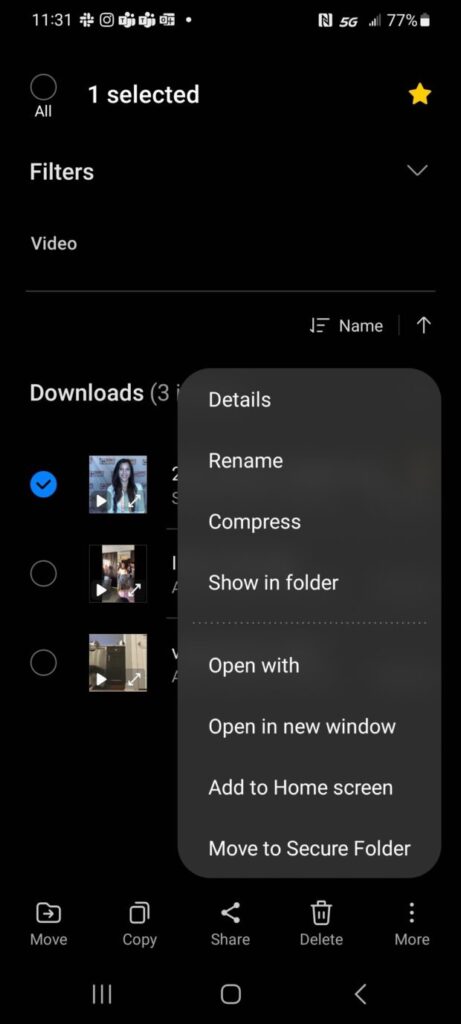 Choose Rename and replace the mp4 extension with mp3.
Now, your video is converted into an audio file. You can now use it behind videos and reels.
For Desktop, follow these steps
For desktop, you can either download the Instagram reel by adding an extension or you can transfer the downloaded reel from your phone to your desktop.
Go to your folder section and find the recently downloaded file.
Right click on it to rename the video.
Change the mp4 extension to the mp3 extension to convert the video file into audio.
4. Use Browser Extension (For PC)
Another method to download Instagram Reels audio is by using a browser extension. The process is a bit long since first you will have to download the reel and then use another extractor tool to extract audio. Follow these steps to get the audio.
Open your PC and search for a browser extension that specializes in downloading reels from Instagram.
Once you add the extension, open Instagram on another tab. Find the reel you want to download.
On top of the screen, you will see the extension icon in the toolbar.
Through the extension, download the Instagram Reel Video.
Once the reel is downloaded, search for audio extraction tools like mp3cut.net to convert the reel video into mp3 format.
5. Use the Link to Download the Full Audio/Song on Instagram Reel
Let me tell you a secret download the complete song instead of a few short clips. Follow these steps to download the full Instagram reel audio or the complete song if you want.
Open Instagram and play the reel you want.
Tap where the audio name is showing to open the screen.
On the left corner, tap on three dots which will show you an option to copy Link.
6. Save the Reel on Instagram
If you want to download an audio file to use in the future, try saving it instead. Instagram has this inbuilt feature that allows you to save your reel's audio.
Open Instagram and choose a reel you want to save audio from.
Click on the audio title to open the full screen.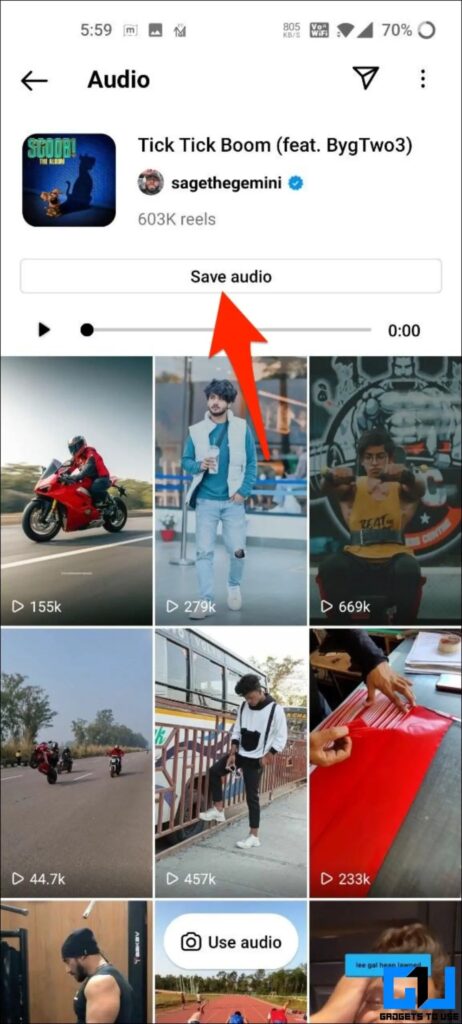 Press save the audio to save audio in your account.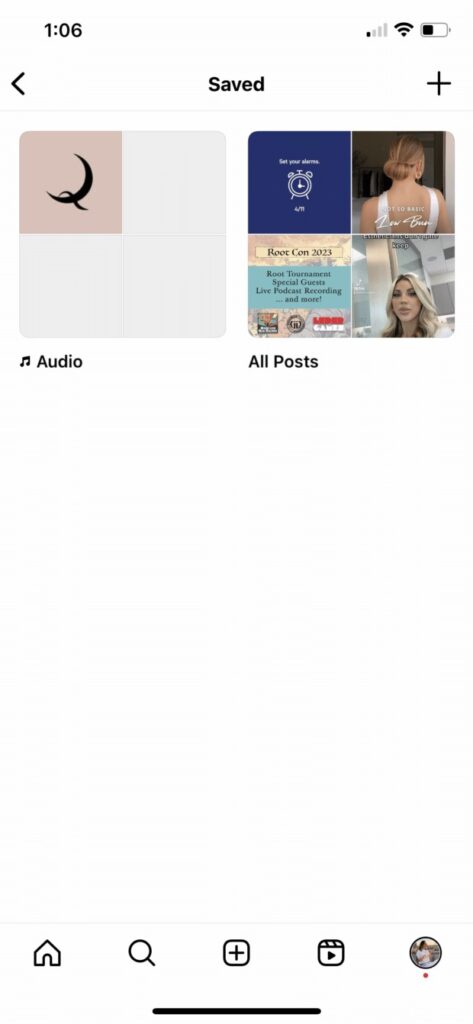 Conclusion
The catchy songs and funny clips are so appealing in this digital world. We like countless reels and want to save them so we can use them in the future. But, Instagram does not have an in-built feature to directly download the audio of the reel. There are multiple alternatives through which you can easily get the Instagram reel audio. Whether you use third party apps, Instagram reel downloader, screen recording, or use extraction and editing tools, you can easily get your desired audio in a few steps.
In this article, we shared different techniques you can use to download the Instagram reel audio. By downloading the audio you will be able to listen to your favorite clips offline and anytime along with using it on different videos and making reels.
Want to check who viewed your Instagram highlights?
Frequently Asked Questions
Can I download Instagram Reels audio directly from the Instagram app?
No, Instagram does not allow you to download its reel audio. You can use third-party apps or video converter tools to download Instagram reel audio to your device.
How to copy the URL of an Instagram Reel?
To download the URL of an Instagram reel, open the reel you want to download in full screen. Press the arrow to see the Copy Link option. Press it and copy the link.
Can I Download Instagram Reels Audio in formats other than MP3?
Yes, if you are looking to download Instagram reels audio in formats other than MP3, search for apps that support that format. Some apps allow you to download the reel audio in WAV and MP4.
Is it possible to get the Instagram reel audio without downloading it?
Yes, you can screen-record the reel instead of downloading it. Open the reel and start recording. Edit and crop the audio however you like and save it.