Facebook is a popular social media platform used by millions to connect with their friends and family. When seeing your friend's profile blank, and being unable to access their profile can be disheartening. To help you fix blank facebook profile we have come up with multiple ways to get your Facebook to function normally.
Why Is My Facebook Profile Blank?
1. Unstable Internet Connection
In order to access Facebook with all its functions working properly, having a stable internet connection is a must. Having a fluctuating connection is a significant cause of seeing blank profiles on Facebook along with slow loading of images. Restart your router and contact your service provider to fix the issue.
2. Outdated Browser Malfunction
If you are using an outdated browser to access your Facebook profile, it could be the reason to see a blank profile on Facebook. To fix this issue in no time, update your browsers on both your PC and your mobile phone. Open Chrome and you will see an update option on top in your settings. Press it and let it update. Once updated you will not face this problem again.
3. Deactivated Account
If you are seeing a blank profile on someone's Facebook, chances are they have deactivated their account. It is a feature on Facebook that allows users to take a break from the app and deactivate their accounts. You can know if your friend has deactivated their account with these steps.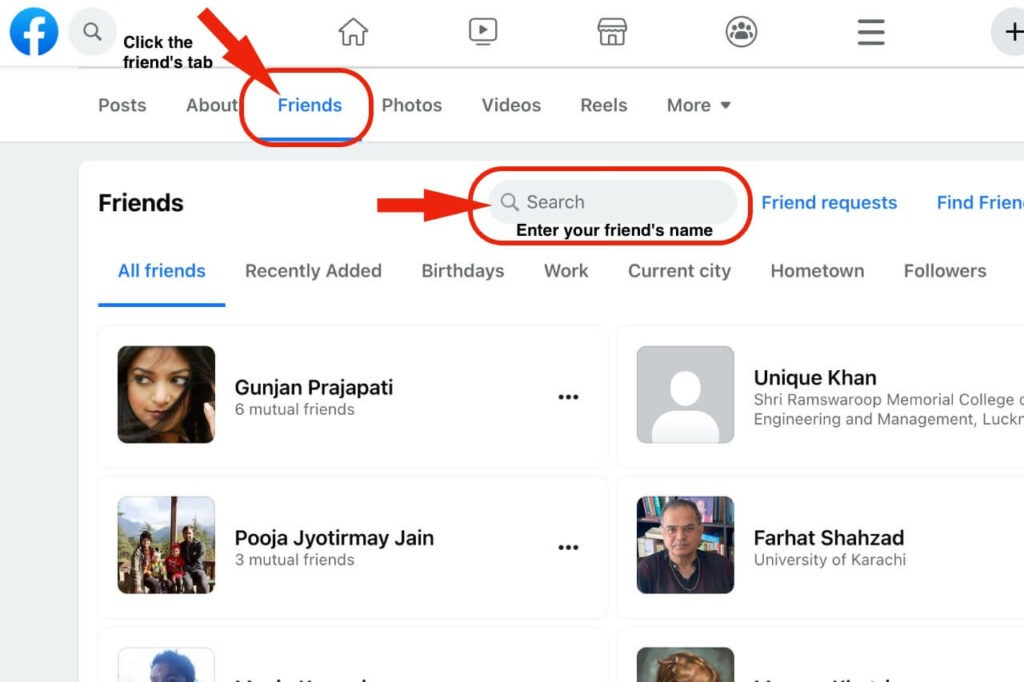 You will see a blank or gray profile picture on their messenger.
There will be no profile picture on their Facebook profile.
You can search for their profile in your friend list if they haven't removed you before deactivating their account.
Upon clicking on your friend's account, you will see an automated message stating this account has been deactivated.
4. Private Profile
Facebook has multiple privacy features to make the space more safe for users. Setting your profile private is another one of its options. If you are seeing only the profile picture and limited information on someone's profile, it means they have set their profile private and you are not in their specific friend list.
5. Got Blocked By the User
If you are unable to see your friend's profile or are seeing a blank space, it is possible that you got blocked by that person. When you block someone, all your connections end there and they become invisible to you. They won't be able to access anything on your profile. Similarly, if someone blocked you, you won't be able to see anything on their profile. To check if you actually got blocked or not, follow these steps.
Go to your friend's previous conversation and click on his Facebook profile.
If you are unable to see the profile pic or access any content, it means they have blocked you.
You can also try to search your friend's Facebook profile from another account, if you are able to access his profile normally and can see his profile picture, unfortunately, you have been blocked.
Another way to cross-check if your friends have really blocked you on Facebook is by searching their profile in Facebook's search box. If you are blocked by that person you won't see their profile on Facebook.
Another case could be that instead of him you have accidentally blocked that person. Follow these steps to find out and clear confusion
Go to 'Settings & Privacy' from your profile and select the 'Blocking' option.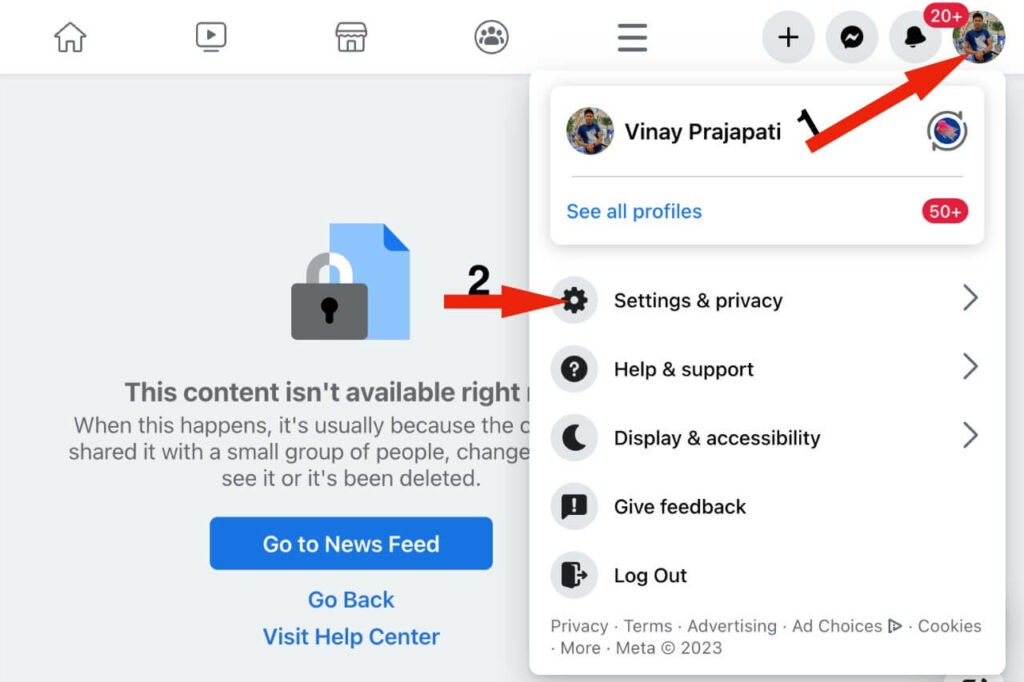 Choose the option 'See Your Blockings' and see all the accounts that you have blocked in the past.
If you find your friend's account sitting there, unblock him.
7 Ways To Fix Blank Facebook Profile
1. Restart Your Device and Ensure A Stable Internet Connection
Before trying any other methods to fix this issue, restart your device, whether it is Android, iPhone, or PC. You should also restart your internet router. After restarting your device, ensure you have a stable internet connection. Since Facebook apps and sites require the internet to work. If your internet is not working, you will not be able to check any other setting to locate the problem. Call your internet service provider to fix this issue.
2. Clear Browser Cache
Another reason that may be the cause of seeing blank Facebook profiles is having too much cache stored on your browser. This affects your Facebook functions and creates problems with loading images etc. Clear your browser's cache and cookies by following these steps
Open Chrome browser and select the history option in the drop-down.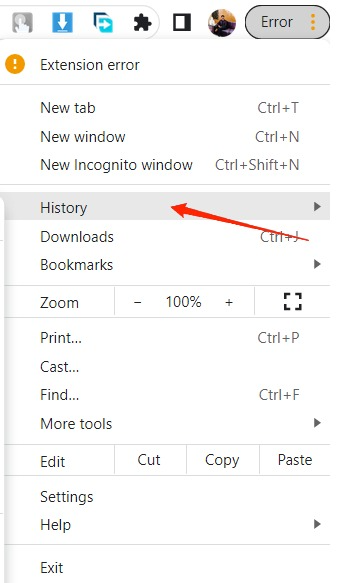 In the history you will see all the cache and cookies stored, select all cache and set the time range to 'All Time'. Hit the Clear Now button to clear all the cache.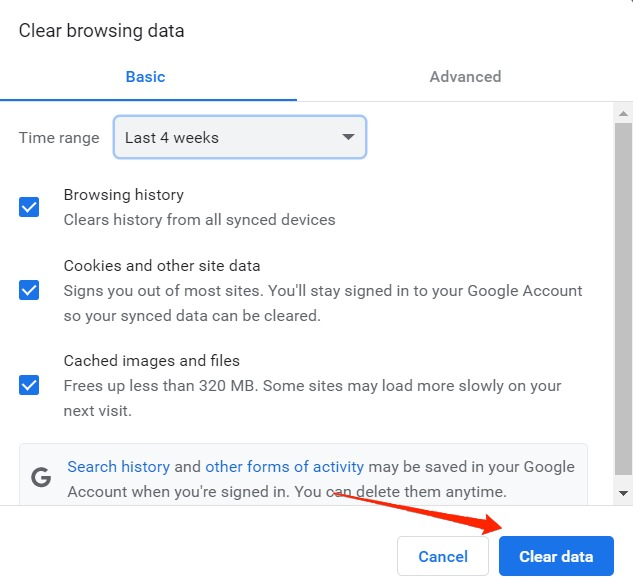 Restart your browser and see if the issue is fixed or not.
3. Recheck Your Privacy Settings
Oftentimes people accidentally change their account settings when trying other options. If you are suddenly seeing a blank Facebook profile chances are you have restricted access to your profile turning it blank. Recheck your privacy settings and turn on the visibility option. You can also try our article about how to see hidden facebook friends.
4. Ensure Your Account is Not Deactivated
If you see a blank profile on Facebook it is possible that your account has been suspended or deactivated. Facebook is strict with its guidelines and if you have violated them by sharing something inappropriate you will not be able to use your Facebook profile resulting in seeing a blank profile. Contact Facebook's help center and inquire about your account status and the reasons behind seeing a blank screen.
5. Disable Browser Extension
Chrome offers a variety of extensions on its browsers to make the experience of using Facebook and other websites more user-friendly. These extensions can interfere with the site's service and cause issues like blank screens, delayed processes, etc. To solve these issues you should get rid of these extensions. Follow these steps to disable browser extensions from Chrome.
Open Chrome Browser, go to 'More Tools', then open 'Extensions'.
From this option, you can see how many extensions you have installed on your browser
Delete any extension that is not needed or is related to improving your Facebook experience.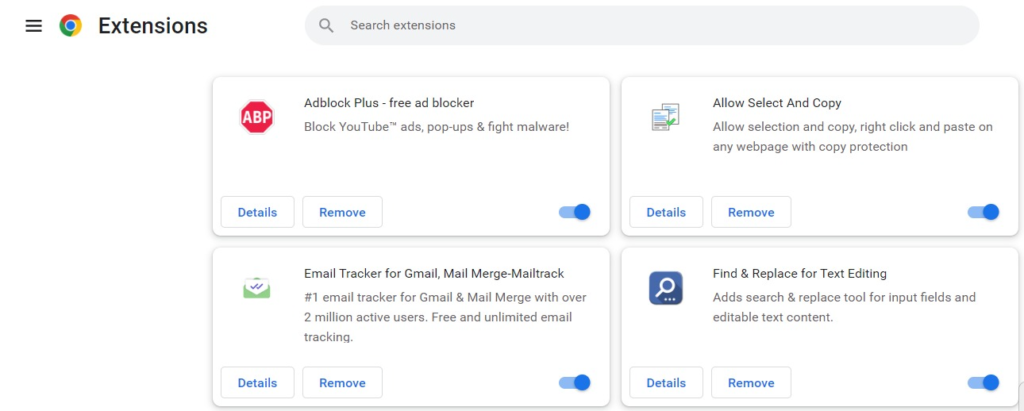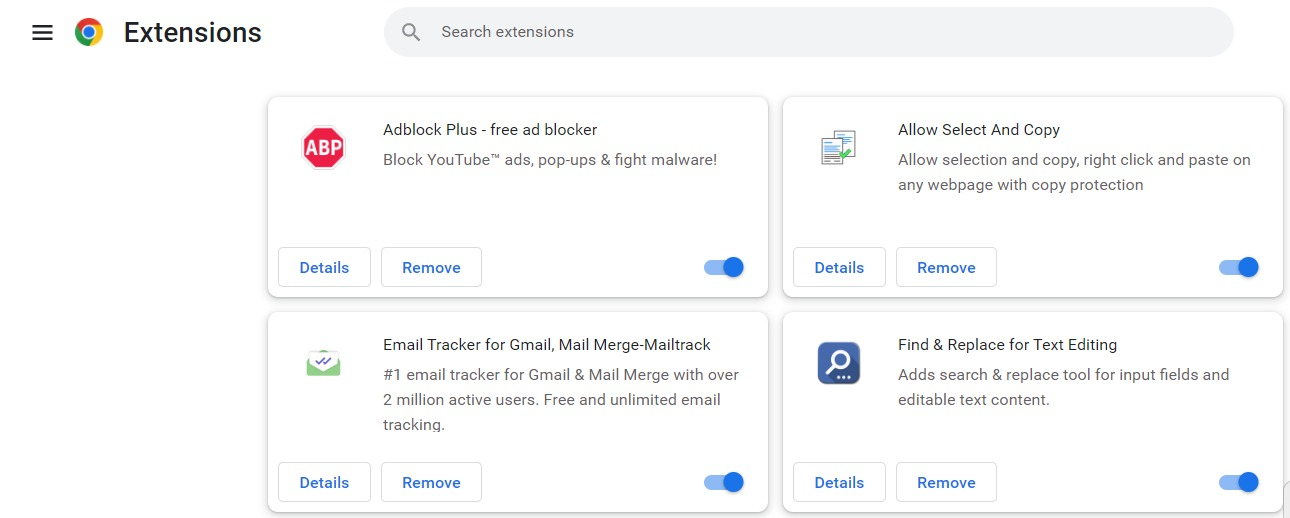 Restart your browser and look for a change.
6. Review Facebook Server is Working
To rule out if the fault in the Facebook server is the cause for seeing a blank Facebook profile, check different methods to see the server status. You can go to Facebook's Twitter page to see any updates about the server or you can use third-party apps available to check if the Facebook server is working or not. If there is no update about the server being down, then it means that the server outage is temporary. You can do nothing but wait a few hours to recheck if you are still seeing a blank Facebook profile. Hopefully, once the server is back your problem will be fixed.
7. Reinstall The App (Android)
Even after trying all the above steps, you are still seeing a blank Facebook profile, uninstalling the Facebook app from your device and reinstalling it. Doing this action will refresh your app and restore your previous data and app settings. You can uninstall the Facebook app by following these steps
Select the Facebook application and hold it for a few seconds to drag it.
Once the app moves, drag it to a dustbin icon which will be visible on the screen. Uninstall it.
Go to Google's Play Store and search for a Facebook app. Select it and install it again
Add your details and your settings will be restored.
Conclusion:
Facebook is one of the biggest digital media platforms that connects millions of people together. Encountering a blank Facebook profile of your friends or relatives can get frustrating. Since most of us have friends that we only connect with on Facebook, finding a solution to this problem is important.
While there are many reasons that lead up to seeing a blank profile, we have shared all possible solutions to fix this issue as quickly and as easily as possible. By following our guide closely and checking out all the primary factors like slow internet, restricted profile settings, and outdated browsers, you will see the Facebook profile of your loved one in no time.
FAQs
Can I Change my own Facebook profile to appear blank to others?
Yes, you can customize your account setting and make certain sections blank for others. You can also choose who can see your posts, personal information, and other content on your profile.
Is Blank Facebook Profile A Sign of Suspicious Activity?
No, some people are private and learn their personal achievements and details to also remain private. Hence they turn their profile blank. Unless you see any illegal activities being endorsed on the account, it is normal to see a blank profile
Is The Issue Of Seeing Blank Facebook Profiles Fixable?
Apart from the user's privacy settings, there are other factors that can cause you to see a blank Facebook profile. You can try any method shared in this blog to solve the issue.