Billions of users throughout the world utilize WhatsApp, a very well-liked communication application. The application already exists on a number of operating systems, including iOS, Android, and Windows, but it has just launched on Google Wear OS, an operating system of Android smartwatch created by Google.
The flexibility to download and use third-party applications is basically the of Wear OS smartwatches' main benefits. Even while there is a wide selection of apps, certain well-known ones, like WhatsApp, are missing.
Because of WhatsApp's creators, that has suddenly changed. This article will show you how to set up and use WhatsApp on a Wear OS smartwatch.
You have landed on the right place if you want to learn how to set up WhatsApp and use it on Google Wear OS device.
This guide will lead you through the steps of configuring WhatsApp on the Wear OS smartwatch and demonstrate how to utilize its functionalities in this in-depth.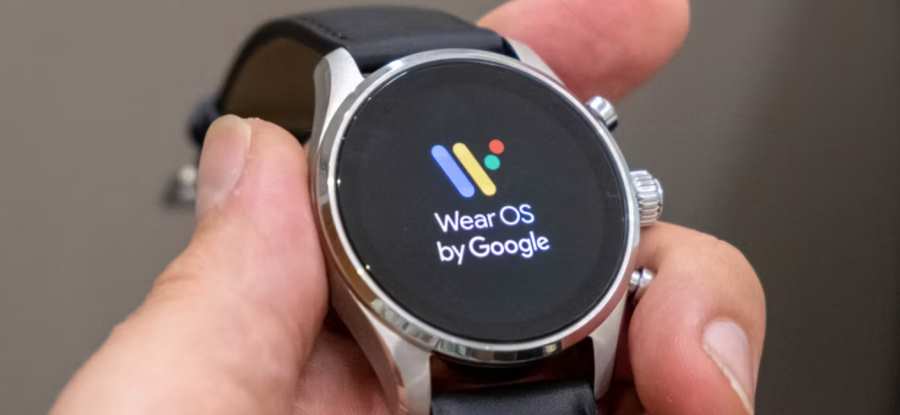 How To Set Up Whatsapp On A Wear OS Smartwatch
Installing WhatsApp on Wear OS
WhatsApp for Wear OS may be downloaded through the Play Store, which is on your smartwatch, just like most other apps. For the entire process, adhere to the procedures below.
Step 1: On the smartphone which should be connected to the Wear OS smartwatch, launch the Google Play Store application. Click on the top search field.
Step 2: Lookup WhatsApp. Click on the resulting link.
Step 3: From the applications list, choose WhatsApp.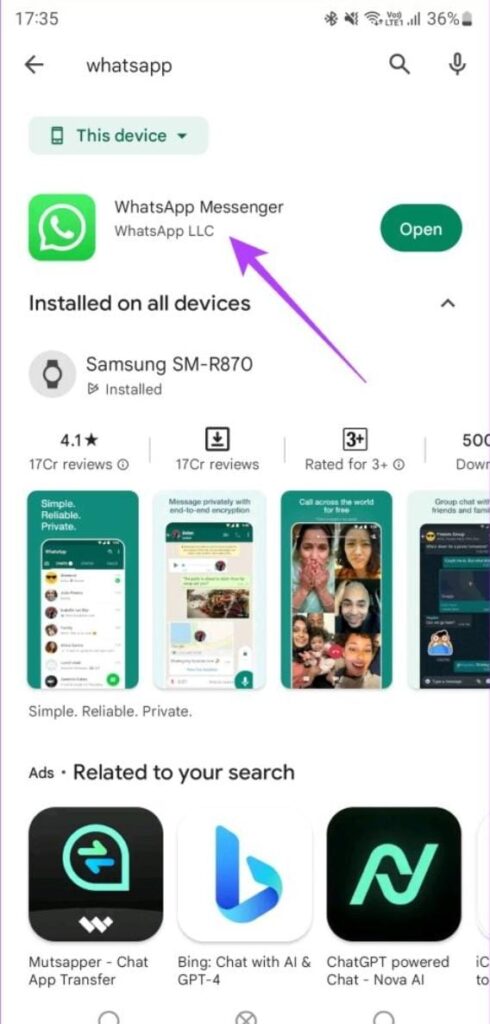 Step 4: A button to download the Wear OS version of the application on your Wear OS smartwatch will now appear. The 'Available on more devices' tab has it. Select "Install" by tapping it.
Step 5: Your smartwatch will start the installation process. Open the application on your smartwatch after installation.
How to Sign in on Google Wear OS for WhatsApp?
Step 1: You will receive a notification onto your smartphone telling you to connect to a new device, you will get this notification right after you launch WhatsApp on the smartwatch. Click on it.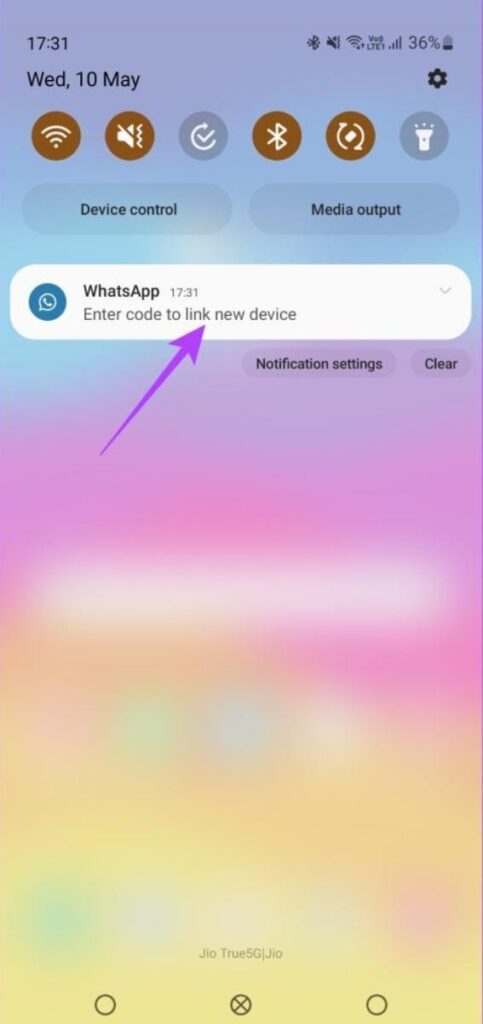 Step 2: Click the Confirm button next to the popup that asks, "Are you trying to attach a device?"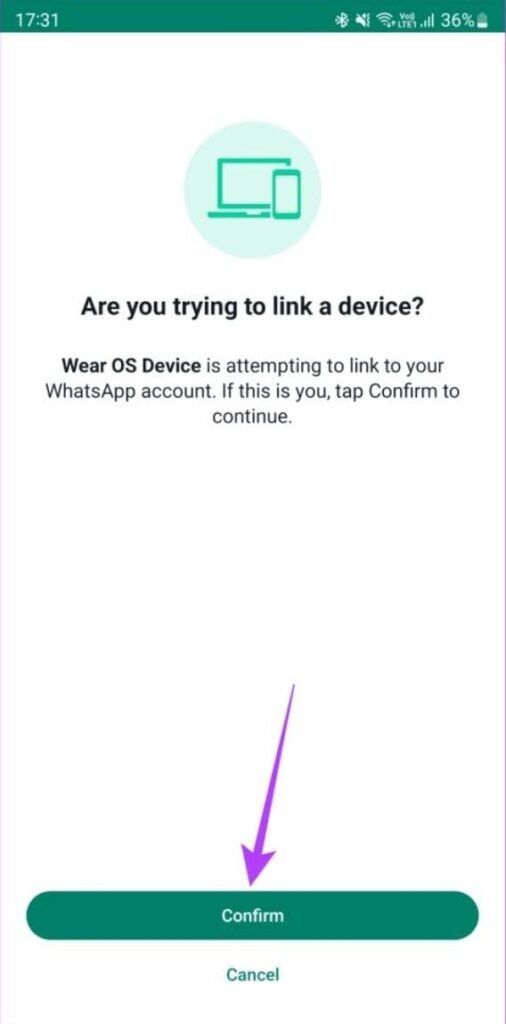 Step 3: Your smartwatch will display an 8-digit code which is usually alphanumeric. Use your smartphone to enter the given code.
All of your WhatsApp messages will start to sync now to your smartwatch.
Whatsapp's Limitations For Google Wear OS
While WhatsApp application for Google Wear OS is a fantastic method to remain in touch with your loved ones, there are some restrictions. These restrictions consist of:
WhatsApp is the sole messaging and calling app available for Wear OS. The application cannot be used to view images, videos, or other types of material.
If your smartwatch lacks cellular connectivity, you will only be able to use the WhatsApp for Wear OS while it is Bluetooth-connected to your smartphone. You won't be able to enjoy WhatsApp if your watch is not connected to the phone.
Because WhatsApp for Wear OS is still in development, it might not be as good as the application's full version.
However, there is a drawback to using WhatsApp application on your smartwatch: while the WhatsApp software is open, your watch battery will use more power. You should keep this in mind when you use the software. However, it is impossible to deny the simplicity of using WhatsApp on your Google Wear OS, and the fact that Wear OS now supports the app represents a huge advancement.
Conclusion
You can easily communicate with one another and receive or send messages without relying entirely on your smartphone thanks to WhatsApp's support for Wear OS wearables. You may easily read and respond to messages from your watch by downloading the WhatsApp software on your phone and then syncing it with your smartwatch. We hope this tutorial was helpful in assisting you with installing and using WhatsApp on your Wear OS wearable.
1.Does WhatsApp work with Apple Watches?
There is still no information available regarding a native WhatsApp application for the Apple Watch. Nevertheless, there are a few workarounds you can apply to utilize WhatsApp on the Apple Watch.
2. Can I send or receive messages on WhatsApp on my Wear OS Smartwatch?

To connect WhatsApp to your watch, what you will definitely need is a smartphone. Once finished, WhatsApp can be used on your watch instead of your phone.
3. Can my smartwatch display WhatsApp images?
You can view images provided to you straight on your watch, yes.
4. Is Wear OS compatible without a phone?
Turn-by-turn navigation feature on the Wear OS smartwatches will now function even when the watch and phone are not in communication. However, as this is not offline navigation, a person will still require an internet connection.