Are you wondering how to leave voice mail on Android and iPhone? In that case, you are in the right place. In today's fast-paced world, everyone couldn't be able to pick up calls in the immediate instant due to meetings, urgent matters, etc.
Whatever the reason is, it can be a frustrating end-up, especially if the call turns out to be important. But don't worry, as voice mail is here to save the day.
Voice mail is a valuable tool that most people rely on when they're unavailable to pick up a call. While its successful setup is a bit tricky task, you can do so like a pro by going through our guide.
So without further ado, let's get started.
What is Voice Mail? How Does it Work?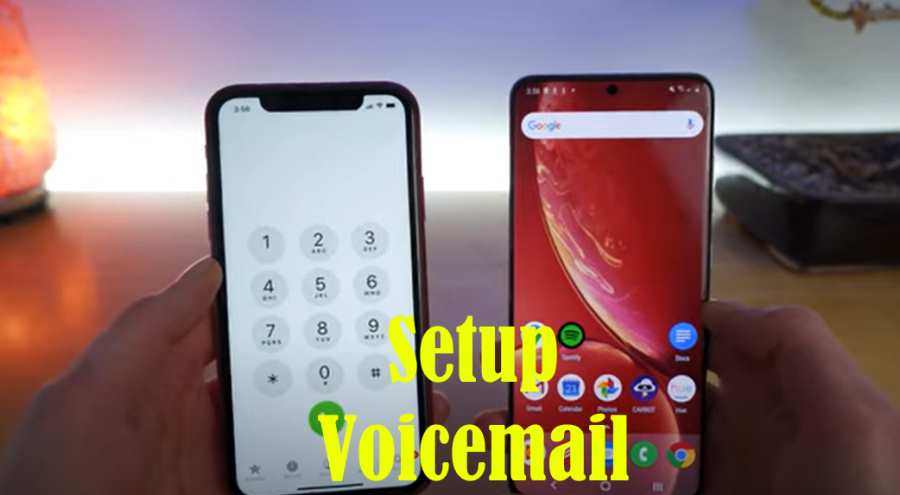 Simply put, a voice mail is an audio message that the receiver you call will get in their mailbox in case they don't pick up the phone. This functionality is pretty useful, especially for business owners who want to level up their customer support services.
Before we go on to discuss how voice mail can benefit people, let's first understand its working mechanism. Whenever a recipient is not available on board, they are left with a message that they can access later on. The medium through which the receiver can retrieve the message includes phone, desktop, email, etc., depending on the business phone system.
What is Meant By Visual Voice Mail?
This is basically an app that displays a list of available voice mails on your device. Accessing it, you can easily listen, delete, or save voice messages as you desire. Moreover, it is also useful in allowing you to opt for a single message from the list.
Therefore, you don't have to find go through the hassles of making phone calls and listening to each voice message one by one to find the one you want.
Where to Find Voice Mail App on your Device?
The presence of voice mail on your phone depends upon its operating system. For example, some devices have this application pre-installed, while for others, you must install it from the play store for free.
However, there are certain restrictions on the accessibility of this app. One of which includes your device's OS version. If you own an Android phone, it must have a system higher than 6.0 in order to let you access the voice mail application. Even the version and features of the voice mail app vary according to your carrier.
How Can I Change the Settings on Visual Voice Mail?
Once you install the app and set it up with your account, it's easier to customize it accordingly. Simply launch the app and navigate to the Settings menu. This appears in the form of a little gear or three dots icon. You can find several settings in that section, like grouping the voice mails or turning notifications on and off, etc.
How to Set Up a Voice Mail on Android and iPhone Devices Using Google Voice App?
When setting up a voice mail, you have two ways to choose from. Either record it in real-time or update it with an already recorded greeting. You can refer to this guide for both, as we have mentioned the step-by-step processes:
Record a New Voice Mail (Android and iPhone)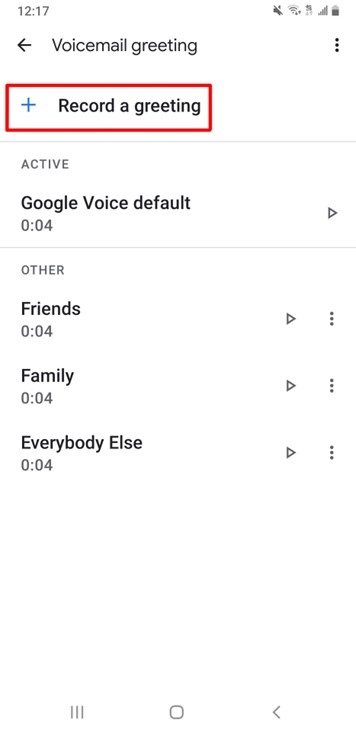 Follow the below steps to record a new voice mail on your Android device:
Launch the Google Voice Application on your device.
Navigate to the Menu icon that appears on the screen's top left side.
Select Settings and toggle to the voice mail section.
When you tap on voice mail Greeting, there'd be an option to record a new voice mail. Simply click on it to proceed.
You can then start recording the desired greeting. Once done, Play it to check if it's recorded just as you want, without any audio glitches.
If you are still not satisfied, select Redo to repeat the recording process.
Once done, save the greeting and give the file a unique name.
The New voice mail in your recorded voice is finally set.
Change Voice Mail Greeting (Android and iPhone)
If you want to switch back to the default greeting or set up an already recorded audio, follow the below steps:
Launch the Google Voice App.
Navigate to the Menu and then the Settings section.
Select voice mail and then tap on the voice mail Greeting option that appears on your screen.
You can see a few pre-recorded greetings on your screen. Tap More or the three dots icon that is seen beside the audio you wish you set.
Select Set as Active to update your voice mail on Android finally.
How to Set Up Voice Mail Quickly on iPhone?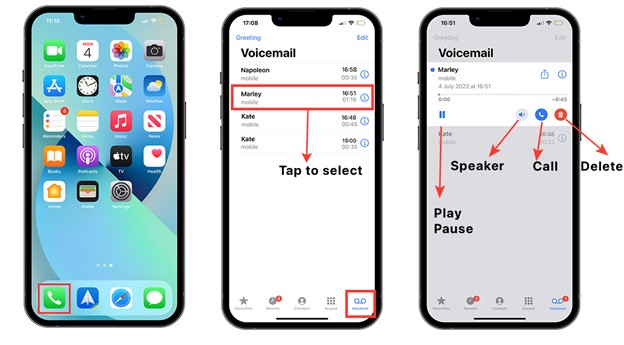 If you don't want to follow the above steps, there's also a quick alternative to setting up voice mail on your device. However, this works only on iPhones. If you own an Android device, refer to the method we have mentioned below in this article.
The steps for iPhone voice mail settings are:
Launch the Phone App on your device.
Navigate to the bottom and select the voice mail tab that appears on the bottom left side of your screen.
Now tap on Set Up Now to proceed. You can then set up a voice mail password and greeting.
You can either go with default settings or record a custom message in just a few minutes.
How to Setup Voice Mail on Android Device Quickly?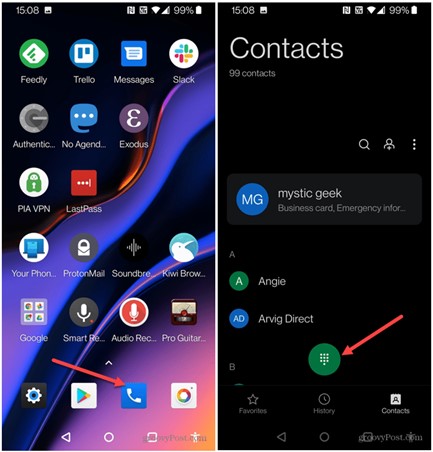 iPhone users can follow the above method as a quick approach to setting voice mail on their devices. Similarly, Android owners also have almost the same way out. Let's discuss the process step by step in this section of our guide.
Search the Contacts application on your mobile by swiping up the home screen.
Select the app to launch it. Tap the search bar and type voice mail to proceed.
Click on the Voice Mail tab that appears on your screen after the search.
A screen will open where you can see a Call icon. Simply click on it to proceed.
You can then follow the prompts like setting up the password and greetings to finalize voice mail settings on your phone.
Note: In case you are unable to locate voice mail in the Contacts app, following below steps can immensely help:
Launch the Phone App on your device just as you did for Contacts in the above guide.
Click on the keypad that appears on the central bottom side of your screen.
Hold 1 for a few seconds to call your voice mail.
It will then guide you through several steps of setting up a voice mail successfully on Android.
How to Change Voice Mail Passwords?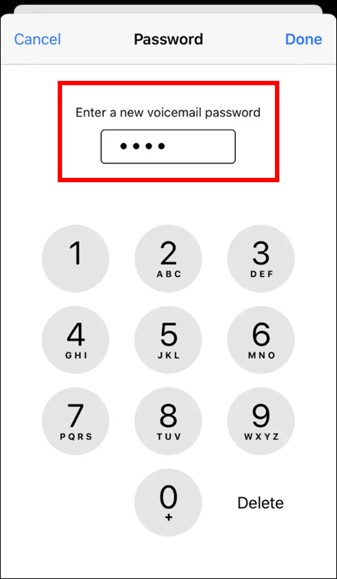 If you want to change your voice mail pin, you can do so through the dialer app. Unfortunately, it's the most traditional that hasn't been changed with an intuitive interface.
Here's how to change your voice mail password considering a few popular cellular carriers across the US:
AT&T: Click and hold the "1" key on your phone. Now input your existing PIN, followed by pressing the "4" key, then the "2" key, and lastly, press the "1" key. In the end, enter your new PIN when prompted.
T-Mobile: Dial #793# on your phone dialer to reset the PIN. Then, press and hold the "1" key on your phone. Afterward, enter a new PIN when prompted.
Note: The last four digits of your phone number serve as the initial PIN by default
US Cellular: Press and hold the "1" key on your phone dialer. Press the "3" key three times. Now follow the instructions provided and press the corresponding key to reset the PIN.
Verizon: Dial *611 on your phone and make the call. Then, input your existing PIN when prompted. When asked for a reason, say, "Reset voice mail Password." Lastly, follow the steps provided by the assistant to create a new PIN.
Conclusion
So here you have it, 'how to set up voice mail on Android and iPhone.' To sum up, voice mail is one of those tools, such as call forwarding, which you probably don't think about a lot. However, it's wise to have it all set up and ready to go for times when picking up a call is infeasible for you.
So whether you're an Android or IOS user, take some time to ensure the voice mail is all set for the next call. After all, no one wants to face the consequences due to an important missed call.
FAQs
How do I get voicemail on iPhone?
If this is your first timing clicking on the Voicemail, create a password and record your first voicemail.
How are voice mails beneficial for businesses?
Voice mails are available all the time, even when your employees can't attend live calls. This especially helps when you want to leave a message to workers who might be away from their phone, like a travel salesperson or service team. Although it's less preferred when you want to contact urgently, a voice mail can still help you connect.
What should I do if I forget my voice mail PIN?
You can contact your mobile service provider's customer support to guide you in resetting the password or PIN successfully.