Wondering how to view and delete YouTube search history on your account? Well, you have come to the right place! YouTube is a popular video-sharing and viewing platform, featuring media on literally every other topic and genre. Be it for entertainment, study purposes, or professional reasons, the content on this platform wouldn't disappoint you.
Besides this, YouTube also keeps an accurate track of your watch and search history to suggest videos that match your taste. While it is something remarkable for a personalized experience on the platform, you may not find it suitable for privacy reasons. In that case, deleting the history at multiple intervals is the only option. Or you can also pause it.
So without wasting further time, let's dig deeper into how to view and delete YouTube search history smoothly.
Reasons Why One Would Want to View or Delete YouTube Search History
There are multiple reasons why you'd need to delete your search history on YouTube. A few common ones include:
Privacy
Deleting search history is a good initiative that helps protect your privacy. This is especially useful when you want to share your device with someone else or are concerned about any unauthorized access to your private account.
Personalization
YouTube monitors your search history to suggest videos from different creators. If you want to start afresh and don't need recommendations based on your current watch or search history, deleting it can be a good idea.
Organization
You may search for a lot of things on YouTube in a day. This might lead to a cluttered search bar, which may not sit right with your organized mind. In order to keep it clean, you can delete the search history and start a new one.
Sensitive Searches
Sometimes, you may search for something sensitive on YouTube that you won't want others to see. In this scenario, the history-deleting feature can prove to be immensely helpful.
How to View YouTube Search History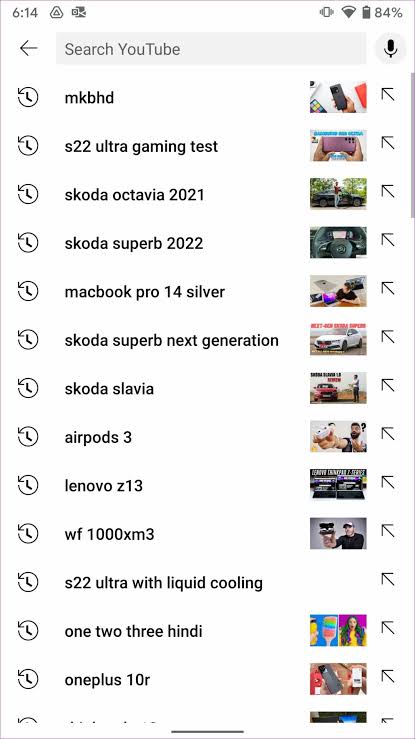 Before we dig deeper into deleting the history, let's first overview how you can view it. Here's a step-by-step guide that will help:
Launch the YouTube app on your mobile phone.
Navigate to the Magnifying Glass icon (search bar) and click on it.
Doing so will open up the list of everything you've searched on your YouTube account.
There's another method through which you can see both the search and watch history associated with your account.
The steps to do so are as follows:
Launch the YouTube app on your device.
Navigate to your Profile Icon that appears at the top right corner of the screen.
Toggle on Settings and select Manage All History.
The above step will open up a new tab from where you can see both the YouTube watch and search history of your account.
The above guide is for the YouTube app you've downloaded on your device. However, it's almost similar to the desktop version.
You have to navigate to the Profile Icon and then Settings. Clicking on History and Privacy will open up a drop-down menu. You can access the watch and search history from there by selecting Manage all activity.
How to Delete YouTube Search History
Now that you know how to view YouTube search history, let's get started with our detailed guide on the methods for deleting it. We will discuss the processes for Android and iOS smartphones along with computing/laptops.
Deleting YouTube History on Android and iOS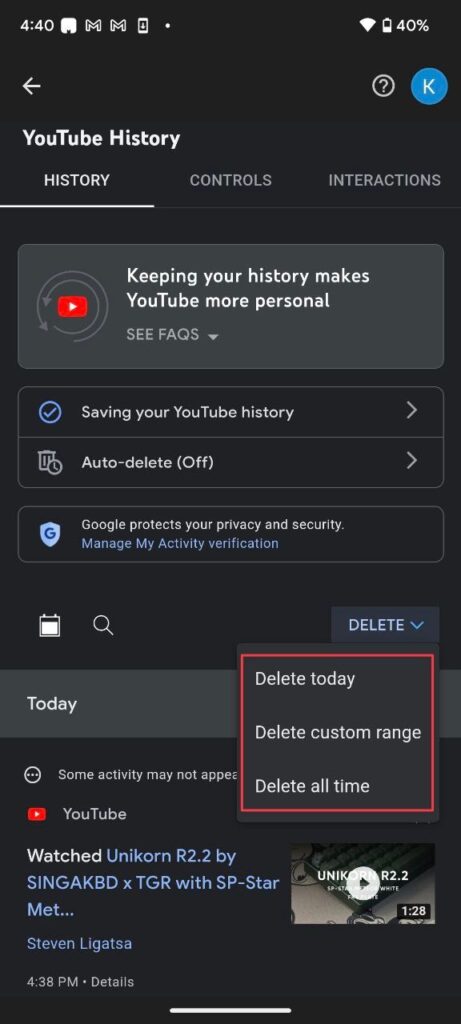 Before we start with the steps, you must know that clearing the entire YouTube search history at once will also delete your watch history. Earlier, users could delete both separately, but the option is no longer available. However, you can manually delete the search history one by one via two basic methods that we will discuss in the below guide.
With that said, let's dig deeper into how to delete YouTube history on Android and iOS devices.
Launch the YouTube app on your device.
Navigate to the Profile Icon and then Settings to proceed.
Toggle on Manage All History and select the account from which you want the history to be deleted (in case you've logged in to multiple accounts).
Now you need to click the cross icon that appears beside the search history that you wish to delete. You can then delete all searches one by one, like this, by scrolling down.
To save time, you can clear the entire search and watch history just by selecting the Delete tab that appears above the section where you can see the history.
Once you select it, a drop-down menu will open. Tap Delete All Time to remove the entire history at once.
How to Delete Specific YouTube Searches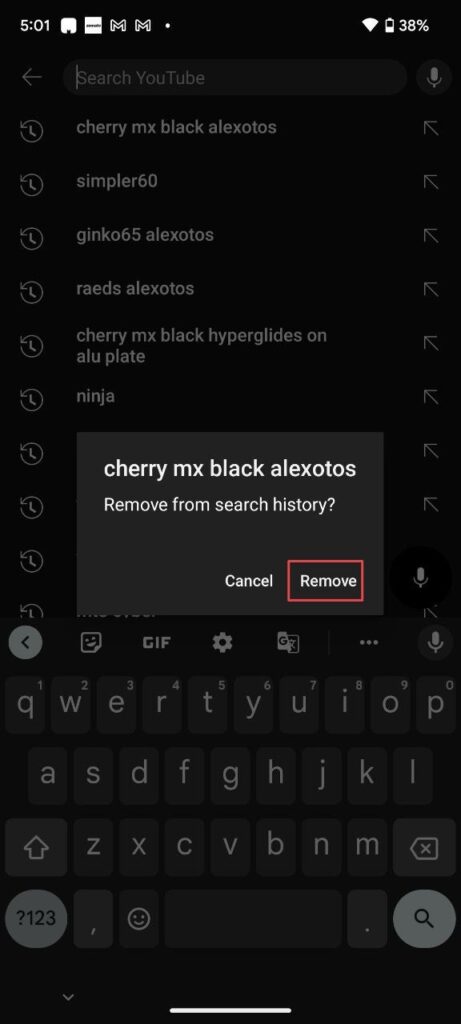 As stated above, we will share the process of manually deleting the YouTube history one by one in this guide. Although the above method mentions one way to do so, here's another one step-by-step.
Launch the YouTube app on your device.
Navigate to the search bar through the magnifying glass icon that appears on the top right side of your screen.
This will open up the list of all the searches you made. You can long-press each one by one and remove them from your search history easily.
How to Delete YouTube Search History on Browser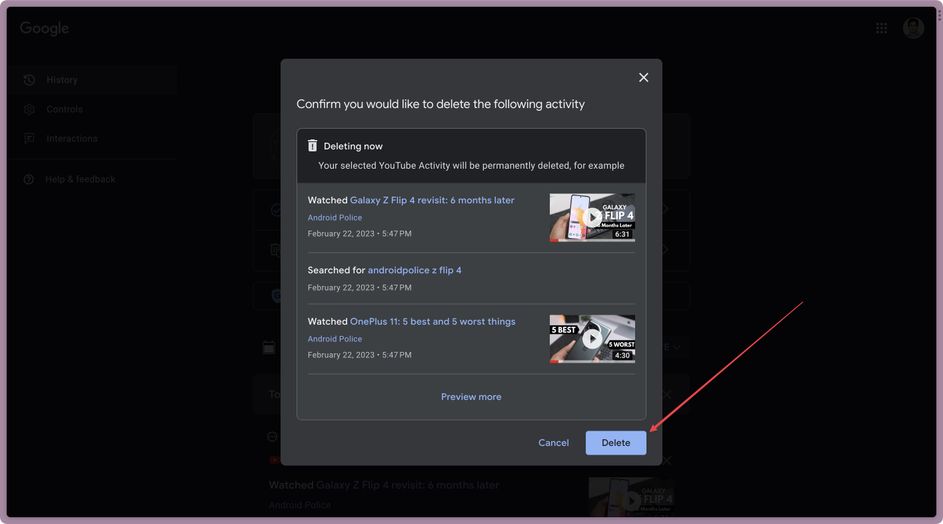 The process of deleting YouTube history on the desktop is not much different than doing so on the phone. However, there are certain requirements that need to be taken care of. Let's discuss the step-by-step process of this below:
Launch the browser you typically use on your laptop or computer.
Search for YouTube in the search engine and navigate to the platform's official website.
Right on the homepage, you can see the History section in the menu on the left side. Click on that.
Select Manage All History to proceed.
Attempting the above step will open up all your searches and watches, which you can remove one by one by clicking on the cross icon. Just confirm that you want to remove it by clicking on Delete, and that particular history will be removed permanently.
You can follow the below steps to delete the entire history at once on your desktop.
Select the Delete button that appears above all the history being displayed on your screen after following the above steps.
Doing so will open a drop-down menu. Click Delete All Time from there to finally remove your YouTube activity.
Note: Once you delete the history from one account, it will get erased from every other device where that particular account is logged in.
How to Pause Your YouTube Search History
Deleting the YouTube history does not mean that the platform will not record your future searches. You'll have to remove it again and again. If privacy is your actual concern, you can pause the history once and for all. Through this, YouTube will not track your searches at all, no matter what you look for. Here's the step-by-step guide to doing so:
Launch the YouTube app on your device.
Toggle on the profile icon appearing on the top right side of the screen.
Select Your Data in the YouTube section to proceed.
Choose your account if you have logged in with multiple IDs on your device.
Scroll down to access the Search History section.
You will see a tab with On written over it, along with a side arrow.
Tap on that arrow and select Turn Off.
You can also select subsetting from this section, like whether you want to pause your watch history, search history, audio and video activity or all.
Pausing the history will give you peace of mind as YouTube won't be able to record anything you search or watch!
Wrapping Up
So here you have it: how to view and delete YouTube search history. We understand that YouTube's history recording feature may raise privacy concerns for you. That's why we bought this guide at your end, so you can easily get rid of the search history on your account. In fact, you can also pause it so no future searches will be monitored by the platform.
So don't worry in case you want none to find what you're looking for on this vast video platform. Follow our mentioned easy steps to remove YouTube search history, and you will be good to go. Read our article on how to view deleted reddit posts and comments.
FAQs
Can YouTube still access my search history once I have deleted it?
No, once you delete the search history, it will no longer be visible to anyone using your account. In fact, not even YouTube could access it.
Will deleting my YouTube search history affect the ads I see on my account?
Yes, it will affect the ads. Once you delete your search history, you may start seeing generic and less personalized ads on your account.
Does deleting YouTube history affect subscriptions and likes?
No, these features are completely separate from each other. So deleting your account's search history will not impact it by any means.