The Internet can be a scary place to be for young ones who aren't aware of the threats accompanied by this technology. Therefore, it's your responsibility to monitor their online activities closely. This way it'd be easier to detect and fix any unusual occurrences before they become a bigger threat. And nothing could be better than a spying app to do so.
A parental control software is completely legal to use if you're tracking your wife, husband, employee or underaged kid's online activities through it. And among so many available options, Xnspy comes into the category of top such apps. Considering its hype, we decided to extract the truth and write an honest Xnspy app reviews so you can make a satisfactory decision accordingly.
Our review is based on user feedback about the app with no biased feedback. Let's get started.
Is Xnspy Legit? Or a Scam?
XNSPY promises to offer a plethora of tracking features. But does it actually provide them? Well, if we see a broader picture, this app is actually serving tracking needs to millions of parents and business owners. This means there is no second question about its legitimacy.
But the level of services does vary on an individual basis, with customer support services being the major issue. Users don't like how they have to wait hours to get any response and that too is vague to not address their concerns.
With that said, let's dig deeper into the review of this app that will make things more clear for you.
Xnspy Demo
Before going through the review, you can access the Demo below to know how exactly the app works and tracks data on the target device. The demo offers both Android and iPhone data so that you can go through its complete dashboard.
Xnspy Features
Before we review the app based on honest user feedback, let's discuss some of its valuable features. However, the catch is that not all of these come within the basic version, and you must jailbreak or root your device to use them.
1. Dashboard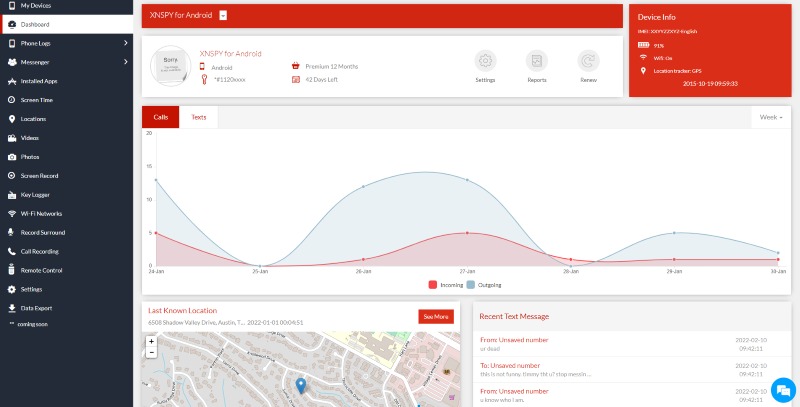 It is a central location on the app where you can access all the tracking features. For example, it lets you know the real-time status of the target device. Moreover, you can also select from multiple sections like account overview, device info, calls, and texts, etc.
You can also see your license key and its expiry date in this section along with a tab that allows the generation of reports. There is also a Settings button featuring several add-ons.
2. Call Log Monitoring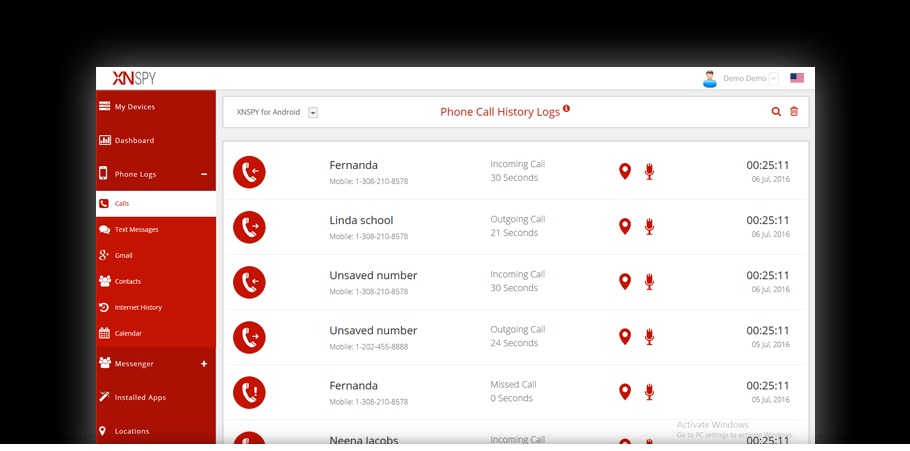 Although many spying apps offer basic call monitoring features allowing you to check who your kid is talking to, XNSPY is a step ahead. Through this app, you can even check the top 5 callers on the target device along with their duration.
Moreover, it also displays a list of all the numbers that your kid may have dialed, attended, or missed with comprehensive details. These include their name, number, timestamps, and date.
Another valuable aspect that makes XNSPY a unique tracking app is the Geo Tags features on call monitoring. Through this, you can easily check the location of the caller at the time they dialed your kid's contact number.
3. Browser History Tracking
Giving access to a mobile phone to your kid means higher chances of them being involved in harmful activities since it's an easy trap. However, you can use XNSPY to avoid this nuisance by keeping an eye on what your kid is looking for on the search engine.
The browser history tracking feature displays a list of all the URLs your kid has visited along with factors like how many times it was opened and the timestamp of this activity. In fact, you can even see the websites they have marked as favorites through the XNSPY dashboard.
It also allows access to the browsing history of Google's Incognito Mode, a feature rarely offered by any tracking software.
4. Geozoning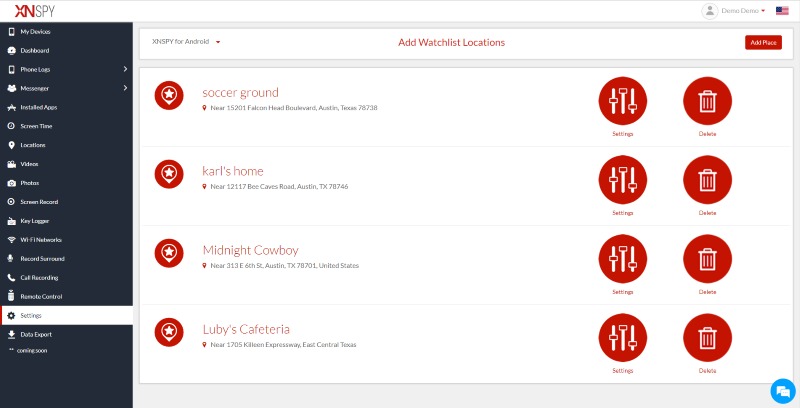 Just like any functional tracking app, XNSPY also lets you know the real-time location of your kid. But what's special? This app lets you set geographical zones so whenever your kid will enter a specific area, you will instantly receive an email on your email. This way, it's easier to take prompt action to keep your kid out of the danger zone.
Using XNSPY, you can create multiple zones with different names easily.
5. Text Messages Monitoring
The next feature on our list is the tracking of text messages on your kid's device. Through this, you can know what type of messages your kid is receiving on their device. Moreover, you can also use this feature to keep an eye on your employees to prevent them from sharing private business details over text.
Moreover, you can search for specific words to spot the messages containing them instead of manually searching through the list. There's also a feature that makes you aware of harmful phrases and words being used on the target device. You can set a custom list of them and XNSPY will directly send the notification to your email.
Xnspy Device Compatibility
The best part about XNSPY is that it's available for both iPhone and Android users. However, there are some serious conditions you must consider.
Android
The app works on almost all Android devices irrespective of their brand. However, the limitation is posed by its operating system as XNSPY is not compatible with those having a version less than 4.0.
Moreover, there are some features like instant message monitoring that you may not be able to access without rooting your device. This can be a lengthy process but worth your time if you want to use additional features of this tracking app.
iOS
If you own an iPhone below its 6th version, the app may struggle to function properly. Otherwise, it works smoothly with easy installation. However, just like rooting Android, it's necessary to jailbreak the iPhone to enjoy its locked features.
Again, the process can be tricky since it involves several steps, which may even void the warranty of your phone. Jailbreaking the target device may even alert your kid about the fact that you're trying to install monitoring software on their phone.
Xnspy: What Users Have to Say About the App?
No review is complete without mentioning the user feedback about the app's functionalities. This aspect is highly important to decide whether the tracking software is worth the money or if should you consider another available option in the market. So without wasting further time, let's dig deeper into our analysis.
Speed
It's normal to get concerned about experiencing lower speeds once you have installed a heavy-sized tracking app on your device. But rest assured as you will not experience any lag with this software, as many users testified to this. They did not face a drop in speed, even by a single percent.
Security
Security may also be your concern since it involves private data like messages, calls, social media accounts, etc. You can relax knowing that XNSPY is GDPR-compliant, keeping all your private details safe and secure.
Moreover, the app does not sell data to any third-party software, further voiding the security concerns. However, users think the app developers must offer more information regarding the data storage process and encryption method for their peace of mind.
Transparency
The app's approach to offering transparent services to its customers isn't well-received. They don't offer valuable details like access to the app's security programs and encryption protocols, keeping them under the dark. Since XNSPY's code is close-source, it was a bit difficult for many users to trust this platform with their private details.
Installation
Users of this app were divided into two when we analyzed their reviews regarding its installation process. Some found it easier to implement while others were not much satisfied with the rooting and jailbreaking requirements.
Precisely, you can access the app's basic features just by installing it like any other app from Play Store or Apple Store. But to access the advanced tools your device must go through jailbreaking or rooting.
In conclusion, users had both good and bad things to say about this tracking app. Some were satisfied with its services while others demanded a refund. Similarly, many were okay with the customer support service while others were agitated due to not receiving a timely reply to their query.
All in all, the app's functionality can vary from user to user, or should we say their luck.
Xnspy Pros and Cons
Now that you're aware of what users say about XNSPY, let's discuss some of its pros and cons in this section.
Pros
Comprehensive features – The list of features offered by this tracking app is extremely useful. It covers everything from text messages to call logs, social media, and location.
User-friendly interface – The app isn't complicated to navigate. Its interface is simplified through a dashboard that lets users access all the features from a single place.
Stealth Mode- This is the best thing about XNSPY as the app works in the background on the target device. This means your kid will not know they are being tracked.
Cons
No Mac Access – Unfortunately, you can't use XNSPY on your MacBook since it isn't compatible with it. The usage is just limited to Android, iOS, and Windows.
Jailbreak or root required – To use XNSPY's advanced features, you must root or jailbreak your device. This can be a complicated process with many risks attached like data wipe or void warranty.
Limited customer support – The level of customer support is not constant. Many users reported delayed responses and a lack of helpful assistance.
Xnspy Price
All the XNSPY features we discussed above come at a price, which is divided into three major plans. With each subscription, you can track only a single device, Therefore, you must contact the app's sales team if you're a business owner with monitoring demands of multiple devices.
Here's a breakdown of its pricing model so you can easily choose the one suiting your needs and budget alike.
Monthly
All Packages have same features
---
Call History
Call recording
Watchlist contacts
Read all incoming and outcoming messages
Quarterly
No limitations
---
Whatsapp chats tracking
Facebook tracking
Snapchat tracking
All other social media tracking
Yearly
All features
---
View Photos
View Videos
Keylogger
Wifi Network Logs
Wipe Phone Data Remotely
Web Based Control Features
Note: All the packages have the same features. The only different between these packages is the monthly rate. The longer the period the more discount you get.
By opting for a yearly plan, you can save as much as $7.50 per month. Meanwhile, the discount on that for three months is $20. It also offers a free demo so you test out all the features before making any financial commitment.
Conclusion
In conclusion, XNSPY proves to be a trustworthy and effective monitoring solution, delivering on its promises without any hint of deception. With its powerful features and user-friendly interface, it empowers parents to keep a watchful eye on their kids or protect their businesses.
However, the experience can vary on an individual basis, since some users reported being satisfied with this while others had a few complaints. So it's better if you try the app's free version yourself and then decide to buy the premium subscription.
FAQs
Can I install Xnspy remotely?
Unfortunately, you can't. To install this app, you must have physical access to the unlocked target device.
Does Xnspy work on Mac?
You can not install its app on Mac but can access the XNSPY dashboard by visiting its official website on a browser.
Is there any refund policy on Xnspy?
The app does offer a refund policy which you may avail of under ten days of a premium subscription. However, you'd just get 50% of your money back.
The Review
Xnspy
Xnspy App known as Spy App is reviewed here with unbiased and user rated and commented reviews. Check Pros and Cons, Features, Pricing and how it can track the target phone.
PROS
Comprehensive features
User friendly interface
Stealth Mode
CONS
No Mac Access
Jailbreak or root required
Limited customer support
Review Breakdown
Jabber Rating

TrustPilot Rating
Xnspy DEALS
We collect information from many stores for best price available
Best Price
$7